Alaska Biathlon Association
Alaska is a unique state offering cross country skiers options for snow and groomed trails nearly nine months out of the year. In addition, Anchorage's Kincaid Park has a new World Class biathlon range, including a 30-point Hora target system and direct access to more than twenty kilometers of groomed trails. For summer training, the range has a paved 1K loop and firing line that connects to the Coastal Trail and other trails ideal for roller ski practices and races.
Several have observed that the Kincaid Park Biathlon Range is one of the best ranges in the country.
With ample groomed ski trails, a world class biathlon facility, an increasing number of athletes, access to experienced coaches and a group of dedicated volunteers, ABA was formed to support the growth of biathlon across Alaska. By expanding biathlon opportunities to many communities all over the state, ABA hopes to develop athletes for recreational, national, and international competitions.
Learn Biathlon
What is Biathlon? Biathlon is a winter sport that combines cross-country skiing and rifle shooting.
What do I have to do in order to shoot on a biathlon range? There are three primary components needed in order to shoot on any range in the U.S.
Click HERE to learn more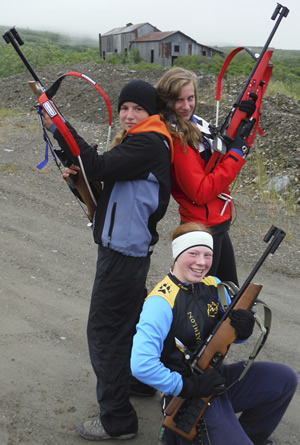 Strategic Initiatives:
Manage, maintain and promote the use of Alaska's world class biathlon range facility located at Kincaid Park in Anchorage.

Hold recreational and internationally sanctioned biathlon race events around the state.

Grow a supportive statewide biathlon community.

Develop athletes to compete for positions on national and international biathlon teams representing our state and country.